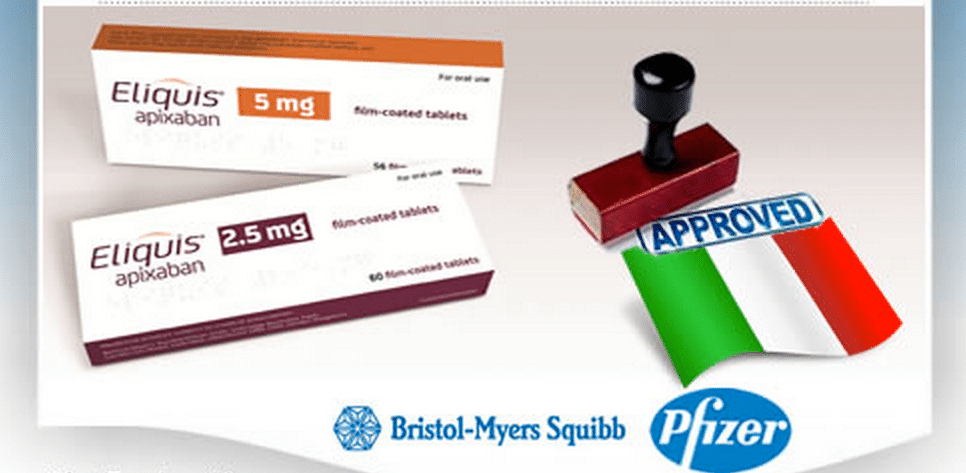 1.) Eliquis (Apixaban)?is a relatively new medication and selective inhibitor.
It is used mainly to prevent harmful blood clots from forming in the blood vessels.
Eliquis is mostly used to prevent blood clots for people who have had a total hip replacement or knee replacement surgery, for the prevention of venous thromboembolism (blood clots in the veins) and the prevention of stroke in atrial fibrillation.
2.) The drug prevents clot formation by blocking an important pathway
Coagulation cascade is a series of reactions, by which, certain protein complex reacts with co-factors and become active components that then catalyze the next reaction in the series to make a bigger complex, ultimately resulting in cross-linked fibrin (blood clot).
Eliquis prevents an important step in this series of reactions by selectively and reversibly blocking the active site of an enzyme (responsible for activation of Factor X to Factor Xa) without requiring a cofactor (e.g., antithrombin III) and breaks the chain to clot formation.?
(Activation of Factor X to Factor Xa via the intrinsic and extrinsic pathways plays a central role in the blood coagulation)
Unlike the previously best known anticoagulant Warfarin, Eliquis is far much better because it significantly reduces:
Risk of stroke or systemic embolism by 21%
Risk of major bleeding by 31%
Mortality by 11%
3.) Pfizer predicted first-year sales of $350 million
after the FDA approved the drug. However, Eliquis sales for 2013 could not even reach $129 million marks. While, global sales of PRADAXA? were $875 million and $582 million for XARELTO?. Eliquis and Pradaxa are both better than warfarin in preventing stroke. Only Eliquis, however, reduced major bleeding over warfarin and improved mortality. According to the Bristol-Myers Squibb Reports First Quarter 2014 Financial Results, Global revenues for Eliquis were $106 million.Analysts are forecasting a $9 billion market for new blood thinners and a drug that fit Apixabans efficacy and safety profile could snatch half of that. Leerink Swann's Seamus Fernandez estimated peak Eliquis sales at $4.2 billion in 2017
If you?re new to Eliquis you likely have some questions about the drug. So let?s dive into the most important information about this drug.
4.) General Instruction for Use
The primary use of this medicine is for stroke and clot prevention in people with atrial fibrillation.
The usual dose is 5 mg twice daily (once in the morning and once in the evening, about 12 hours apart).
Unlabeled Uses:
To reduce the risk of recurrent DVT and/or PE (in patients completing 6-12 months of standard anticoagulation for venous thromboembolism).
Postoperative DVT prophylaxis for arthroplasty of the knee.
Postoperative DVT prophylaxis for total hip replacement.
Reduced Dosages:
A reduced dose of 2.5 mg orally twice daily is recommended for patients with 2 or more of the following:
Age of 80 years or greater
Body weight of 60 kg or less
Serum creatinine of 1.5 mg/dL or greater
Many things can affect the dose of medication that a person needs, such as body weight, other medical conditions, and other medications. If your doctor has recommended a dose different from the ones listed here, do not change the way that you are taking the medication without consulting your doctor.
What to do concerning Missed Doses?
If a dose is missed, administer the missed dose as soon as possible on the same day and resume twice daily administration. Doses should not be doubled.
Modifying Doses:
For Renal impaired patients
Mild-Moderateimpairment: No dosage adjustment required
Serum creatinine ?1.5 mg/dL: Decrease dose to 2.5 mg BID if you are of age ?80 years or weight ?60 kg.
ESRD maintained on hemodialysis: 5 mg BID;decrease dose to 2.5 mg BID if you are of age ?80 years or weight ?60 kg.
For Hepatic impaired patient
Mild: Not dosage adjustment required
Moderate: No dosing recommendations are available, because these patients may have intrinsic coagulation abnormalities.
Severe: Not recommended
Administration:
May take with or without food
Missed dose: If not taken at the scheduled time, the dose should be taken as soon as possible on the same day and twice daily administration should be resumed; do not double the dose to make up for a missed dose
If unable to swallow whole tablets, the tablets may be crushed and suspended in 60 mL D5W and immediately delivered via NG tube
NOTE:No data are available in respect of the safety and efficacy of Eliquis in children. Use of Eliquis is not recommended in children.
5.) Can you Overdose on Eliquis?
The amount of this medication needed to result in an overdose greatly depends on the individual characteristics of the user.
In controlled clinical trials, orally administered Apixaban in healthy subjects at doses up to 50mg daily for 3 to 7 days (25mg twice daily for 7 days or 50mg once daily for 3 days) had no clinically relevant adverse effects.
However, Overdose of Eliquis will greatly increase the risk of severe bleeding in patient.
Can an overdose of this drug result in death??
Yes, this medication can cause bleeding which can be serious and rarely may lead to death.
In the event of an expected overdose, you or your loved ones should take immediate action and seek medical help.
Any?noticeable negative side effect is cause for a medical consultation. These and other symptoms might be signs of an allergy, incompatible drug interactions, or other complications and should be addressed as soon as possible.
Management of Overdoses will vary.
If the overdose was recent, a healthcare provider may give certain medicines or place a tube into the stomach to pump the stomach.
In healthy subjects, administration of activated charcoal 2 and 6 hours after ingestion of a 20-mg dose of Apixaban reduced mean drug AUC by 50% and 27%, respectively.
Thus, administration of activated charcoal may be useful in the management of Apixaban overdose or accidental ingestion.
Once Apixaban has been absorbed into the body, there is no treatment that can remove it quickly and so specific antidotes are known. However, not all hope is lost. An investigational new drug is entering the market known as Andexanet alfa, which is claimed to be a potential antidote for Factor Xa inhibitors.
But for now, the possibility of multiple drugs is considered to manage overdosage.
6.) Eliquis and Severe Bleeding
Call your doctor or get medical help right away if you have any of these signs or symptoms of bleeding when taking Eliquis:
Unexpected bleeding or bleeding that lasts a long time, such as unusual bleeding from the gums, nosebleeds that happen often, menstrual bleeding or vaginal bleeding that is heavier than normal.
Bleeding that is severe or you cannot control
Red, Pink, or Brown urine
Red or Black stools (looks like tar)
Coughing up blood or blood clots
Vomit blood or your vomit looks like coffee grounds
Unexpected pain, swelling, or joint pain
Headaches, feeling dizzy or muscle weakness
In the event of hemorrhagic complications, treatment must be discontinued and the source of bleeding investigated. The initiation of appropriate treatment, e.g., surgical hemostasis or the transfusion of fresh frozen plasma should be considered.
NOTE: If life-threatening bleeding cannot be controlled by the above measures, administration of recombinant Factor VIIa may be considered. However, there is currently no experience with the use of recombinant Factor VIIa in individuals receiving Apixaban. Re-dosing of recombinant Factor VIIa could be considered and titrated depending on improvement of bleeding. Depending on local availability, a consultation of a coagulation expert should be considered in case of major bleedings.
7.) Associated Side effects and Risks
a.) Adverse drug reactions (ADRs) shown to occur with more than 50mg/day dosage at rate higher than seen with placebo:
Very common Side effects (>10% incidence)?
Less Common Side effects (1-10% incidence)?
Clinically-Relevant Non-Major Bleeding: (2% to 4%)
Nausea: (3%)
Anemia: (3%)
Major Bleeding: (? 2%)
Bruising: (1%)
Post-procedural Hemorrhage: (1%)
GGT Increased: (1%)
Transaminases Increased: (1%)
Hypersensitivity Reactions: (< 1%)
Syncope: (< 1%)
Gastrointestinal Bleeding (upper GI, lower GI and rectal bleeding): (0.83%/year)
Intracranial Bleeding: (0.33%/year)
Intraocular Bleeding: (0.21%/year)
b.) Contraindications
Active pathological bleeding: Eliquis use increases the risk of bleeding and may cause serious and potentially fatal bleeding. Concomitant use of drugs affecting hemostasis i.e., Nonsteroidal Anti-Inflammatory Drugs (NSAIDs), Selective Serotonin Reuptake Inhibitors (SSRIs), Serotonin Norepinephrine Reuptake Inhibitors (SNRIs), antiplatelets, Thrombolytic agents, and other anticoagulants increases the risk of bleeding. Patients should be educated on the signs and symptoms of bleeding and instructed to report them immediately or go to an emergency room.
Severe hypersensitivity to Eliquis: Use in patients with a severe hypersensitivity reaction (i.e. anaphylactic reaction) to Eliquis or any component of the formulation is contraindicated.
c.) Other?Warnings?and?Precautions:
It should be taken into serious consideration that Eliquis is NOT indicated for prosthetic heart valves or for mitral stenosis.
Eliquis is also NOT indicated as add-on treatment for dual antiplatelet therapy in secondary prevention of coronary incidents (Triple therapy).
8.) Apixaban Cost-Effectiveness Compared with Warfarin or Aspirin
Apixaban is a cost-effective alternative to warfarin in warfarin-suitable candidates and also compares well with aspirin in patients who cannot take the vitamin K antagonist.
The findings, derived from randomized trial data, were published online February 16, 2014, ahead of print in the European Heart Journal.
According to Dr. Dorian and colleagues, the higher treatment cost for Apixaban was lessened from 2 factors: the price of the drug itself and the additional time patients spent taking it.
The choice of an optimal anticoagulant in patients should involve careful consideration of stroke prevention efficacy, bleeding risk, tolerability profile, and resource burden associated with therapeutic management. Our analysis clearly demonstrates that Apixaban, when compared with the current standard of care provides a cost-effective alternative for prevention of thromboembolic events, researchers said.
9.) Does Eliquis Have Drug Interactions
Drug interactions may change how your medications work or increase your risk for serious side effects. Do not start, stop, or change the dosage of any medicines without your doctor's approval.
Some products that may interact with this drug include:
Drugs that reduce the activity of the liver enzymes that break down Apixaban increase the Blood levels of Apixaban. The dose of Apixaban should be reduced to 2.5 mg twice daily if combined with drugs that reduce the activity of these enzymes. Examples include ketoconazole (Nizoral, Extina, Xolegel, Kuric), itraconazole (Sporanox), ritonavir (Norvir), and clarithromycin (Biaxin, Biaxin XL). Antibiotics such as clarithromycin may also increase the risk of side effects associated with Eliquis.
Drugs that increase the breakdown of Apixaban reduce its blood levels and its effectiveness. Examples include carbamazepine (Tegretol, Tegretol XR, Equetro, Carbatrol), rifampin, some herbal products like St. John's Wort, and phenytoin (Dilantin, Dilantin-125). They should not be combined with Apixaban.
Administration of other drugs that also can prevent clotting will increase the risk of bleeding during treatment with Apixaban. Examples include aspirin, heparin, chronic use of NSAIDs, and drugs that break down blood clots (fibrinolytic).Other anticoagulants such as clopidogrel or warfarin may also increase bleeding risk when combined with Eliquis.
10.) Eliquis Black Box Warnings
Discontinuing in patients with non-valvular atrial fibrillation:
Discontinuing Eliquis without adequate continuous anticoagulation places patients at an increased risk of stroke.
An increased rate of stroke was observed following discontinuation of Apixaban in clinical trials in patients with non-valvular atrial fibrillation
If anticoagulation with Eliquis must be discontinued for a reason other than pathological bleeding, coverage with another anticoagulant should be strongly considered. Do not stop taking this medication without talking to your doctor.
Spinal/epidural hematoma:
Increased risk of epidural or spinal hematoma when used with neuraxial anesthesia (epidural/spinal anesthesia) or spinal puncture (can result in long-term or permanent paralysis)
Risk increased with indwelling epidural catheters for administration of analgesia or by the concomitant use of drugs affecting hemostasis (e.g., NSAIDs, platelet aggregation inhibitors, other anticoagulants)
Risk also increased by traumatic or repeated epidural or spinal puncture; if this occurs, delay Apixaban administration for 48 hour
Monitor patients for signs and symptoms of neurologic impairment; if neurologic compromise is noted, urgent treatment is necessary
Indwelling epidural or intrathecal catheters should not be removed earlier than 24 hours after the last administration of Eliquis; the next Eliquis dose should not be administered earlier than 5 hours after the removal of the catheter
11.) Eliquis and Lactose Intolerance?
Eliquis tablets contain a good quantity of lactose and should be taken with caution by people with rare hereditary problems of galactose intolerance, the LAPP lactase deficiency or glucose-galactose malabsorption. Lactose is the main sugar in milk and other dairy products.
Lactose intolerance is not curable.
If you have LI, you might have one or more of these symptoms. They may be mild or severe.
Bloating
Cramps
Diarrhea
Painful gas
Nausea
If you have lactose intolerance, you can't digest lactose because your small intestine doesn't make enough lactase, the enzyme that digests lactose. The lactose that isn't digested makes gas in your colon. So when you eat foods or take pills with lactose, you have symptoms.
Even with lactose intolerance, you can tolerate a certain amount of lactose. This affects how quickly you have symptoms and how severe they are. Talk to your doctor if you experience any of these symptoms after taking this medication.
12.) What About Withdrawals from Eliquis?
(NOTE: Do not reduce or stop your regimen without the doctors approval and oversight)
Eliquis comes with a Black Box warning regarding its withdrawal.
Do not stop taking Apixaban without talking to your doctor.
You are at a higher risk of having a stroke after you stop taking Apixaban.
Continue to take Apixaban even if you feel well.
Be sure to refill your prescription before you run out of medication so that you will not miss any doses of Apixaban.
Your doctor may prescribe another anticoagulant or blood thinner, if you need to stop taking Apixaban, to help prevent a blood clot from forming and causing you to have a stroke.
13.) What About Eliquis and Pregnancy?
a.) Eliquis is pregnancy category B drug. If you are pregnant or become pregnant while taking Pristiq, you should talk to your doctor about alternative treatments for your condition.
There are no good studies of Apixaban in pregnant women.
Treatment is likely to increase the risk of bleeding during pregnancy and delivery.
Apixaban should be used during pregnancy only if the potential benefit outweighs the potential risk to the mother and unborn baby.
Studies in animals dosed directly with Apixaban have shown no effect on fertility. However, in the female offspring of pregnant rats treated with Apixaban, there were decreases in mating and fertility.
b.) Nursing while on this drug is not recommended.
Tell your doctor if you are breastfeeding or plan to breastfeed.
It is unknown whether Apixaban or its metabolites are excreted in human milk.
In lab studies, this drug was found to be excreted in rat?s milk (12% of the maternal dose).
About ELIQUIS Film-coated Tablets
A film coating is a thin polymer-based coat applied to a solid dosage form such as a tablet. The purpose of applying the film coating may be decorative, functional (like easy swallowing, or to prevent the bitter taste while taking the medicine) or both.
Pricing Information:
Eliquis? 2.5mg Film-coated Tablets:
60-tabs/$314.14 and 100-tabs/$520.74
Each yellow, round tablet, with "893" marked on one side and "2 ?" on the other side, contains 2.5 mg Apixaban.
Eliquis? 5mg Film-coated Tablets:
60-tabs/$314.14 and 100-tabs/$520.74
Each pink, oval tablet, with "894" marked on one side and "5" on the other side, contains 5 mg Apixaban.
Eliquis? is available as a brand name drug only. A generic version is not yet available. Prices are for cash paying customers only and are not valid with insurance plans. Actual costs to patients will vary depending on the use of specific retail or mail-order locations and health insurance copays.
14.) Your surgeon or anesthesiologist needs to know that you are taking Eliquis
You must inform them f you are having any type of surgery, including oral or dental surgery. Eliquis may cause heavy bleeding during surgery which may be life-threatening.
15.) Eliquis and laboratory tests
Apixaban prolongs clotting tests such as prothrombin time (PT), and activated partial thromboplastin time (aPTT). Although Eliquis therapy will lead to an elevated INR, depending on the timing of the measurement, the INR is not a valid measure to assess the anticoagulant activity of Eliquis.
The INR is only calibrated and validated for vitamin K antagonists (VKA) and should not be used for any other anticoagulant, including Eliquis.
16.)?Reversing anticoagulant effect through conventional drugs
Protamine sulfate and vitamin K are considered as antidotes for anticoagulants like warfarin etc. But these would not affect the anticoagulant activity of Apixaban.
17.) Important! Avoid drinking grapefruit juice when taking this medication?
Grapefruit juice may increase Apixaban serum concentration and increase your chances of severe bleeding.
18.) Temporary discontinuations of anticoagulants, including Eliquis, for active bleeding, elective surgery, or invasive procedures places patients at an increased risk of thrombosis. Lapses in therapy should be avoided and if anticoagulation with Eliquis must be temporarily discontinued for any reason, therapy should be restarted as soon as possible.
19.) If you want to switch from Vitamin K antagonist (VKA) therapy to Eliquis?your doctor will discontinue warfarin or other VKA therapy and start Apixaban when the international normalized ratio (INR) is less than 2.0.
20.) What is the?half-life of Eliquis?
The half-life of Apixaban is 5-6 hour normally but a patient on repeated dosing will show an apparent half-life of 12 hours.? Eliquis is highly protein bound (87%) and NOT dialyzable.
Manufacturer:
Bristol-Myers Squibb Pharmaceuticals Ltd.
Marketed by:
Bristol-Myers Squibb Pharmaceuticals Ltd. and Pfizer Inc.
Inactive ingredients:
Anhydrous Lactose
Microcrystalline Cellulose,
Croscarmellose Sodium
Sodium Lauryl Sulfate
Magnesium Stearate.
The film coating contains:
Lactose Monohydrate
Hypromellose
Titanium Dioxide
Triacetin
Yellow Iron Oxide (for 2.5mg Tablets)
Or Red Iron Oxide (for 5mg Tablets)
Sources
British National Formulary
Eliquis [package insert]. Princeton, New Jersey: Bristol-Myers Squibb Company; 2012.
Apixaban. Lexi-Drugs. Lexi-Comp, Inc; January 14, 2013.
Apixaban. Clinical Pharmacology. Gold Standard, Inc., 2012. Available at: http://www.clinicalpharmacology.com Accessed: January 14, 2013.
Apixaban. In: DRUGDEX? System. Greenwood Village, Colo: Thomson Micromedex. Updated periodically. Accessed: January 14, 2013.
Dorian P, Kongnakorn T, Phatak H, et al. Cost-effectiveness of apixaban vs current standard of care for stroke prevention in patients with atrial fibrillation. Eur Heart J. 2014;Epub ahead of print.
Bristol-Myers Squibb News Release 26 April 2007. Archived from the original on 11 September 2007. Retrieved 2007-09-15.
Gomez-Outes A, Terleira-Fernandez AI, Calvo-Rojas G, Suarez-Gea ML, Vargas-Castrillon E. Dabigatran, rivaroxaban, or apixaban versus warfarin in patients with nonvalvular atrial fibrillation: a systematic review and meta-analysis of subgroups. Thrombosis 2013; 2013: 640723

EMA apixaban summary of product characteristics

http://www.ema.europa.eu/docs/en_GB/document_library/EPAR_Product_Information/human/002148/WC500107728.pdf
Adam SS, McDuffie JR, Lachiewicz PF, Ortel TL, Williams JW (August 2013). "Comparative effectiveness of new oral anticoagulants and standard thromboprophylaxis in patients having total hip or knee replacement: a systematic review". Ann. Intern. Med. 159 (4): 275?84. doi:10.7326/0003-4819-159-4-201308200-00008. PMID 24026260.
Venous thromboembolism – apixaban (hip and knee surgery), NICE Technology Appraisal Guideline (January 2012)