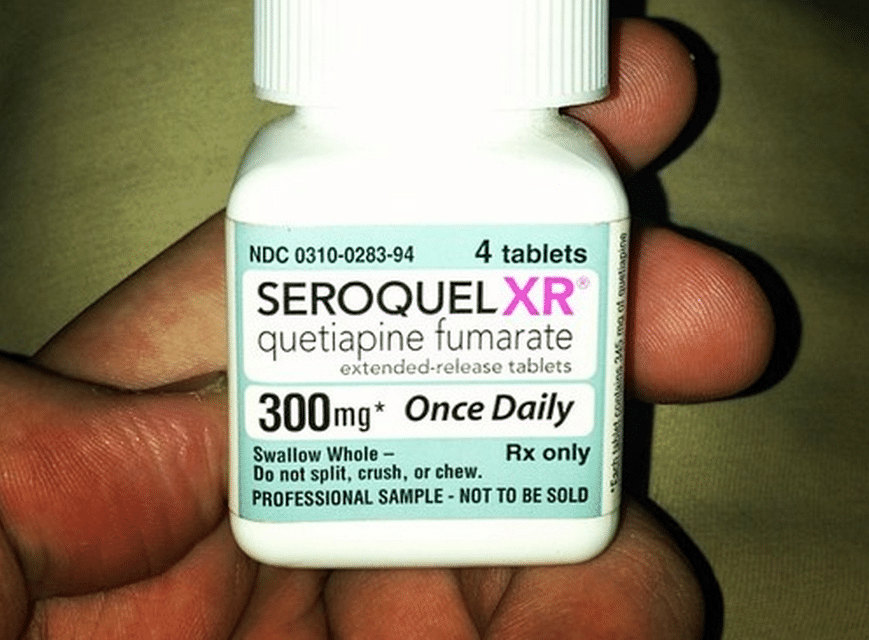 1.) What is Seroquel?
Seroquel is an oral atypical antipsychotic drug that the FDA approved the use of in September 1997.
A single?25mg dose is the smallest tablet made and 400mg is the greatest.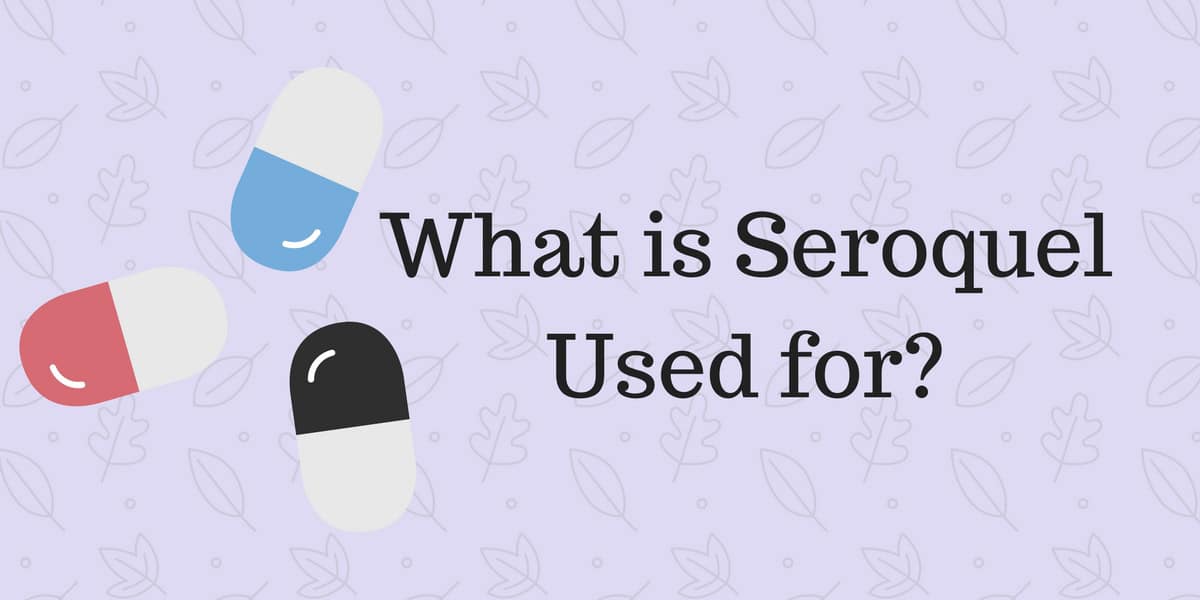 2.) What is Seroquel Used For?
Quetiapine is used alone or in combination with other drugs to treat schizophrenia and bipolar disorder.
It's intended for bipolar disorder (manic depression) in adults and children who are at least 10 years old. It is also used together with antidepressant medications to treat a major depressive disorder in adults.
It also prescribed for treating major depression?in combination with antidepressants and to treat schizophrenia in adults and children who are at least 13 years old. 
The efficacy of Seroquel in schizophrenia was established in three 6-week trials in adults and one 6-week trial in adolescents (13-17 years).
The effectiveness of Seroquel for the maintenance treatment of schizophrenia has not been systematically evaluated in controlled clinical trials
It's sedating in low dose, 100mg and lower is said to be more sedating. There are a lot of people these days who are prescribed take it just for sleep. More on that later.
It's said that you will sleep with no disturbance (although the effects of the sleep cycle are unknown).
It's also been used to treat Alzheimer's patients, although it's not licensed to treat this.
3.) How Does Seroquel Work?
What does the medication Seroquel do exactly?
How does it treat severe mental illnesses?
Although the mechanism of action of quetiapine is unknown, like other antipsychotics, it inhibits communication between nerves of the brain.
It does this by blocking receptors on the nerves for several neurotransmitters, the chemicals that nerves use to communicate with each other.
It is thought that its beneficial effect is due to blocking of the dopamine type 2 (D2) and serotonin type 2 (5-HT2) receptors.
This is why it works for bipolar disorder, effectively quieting the mind and helping with the manic side of this illness.
It can help to manage or mitigate the racing thoughts, obsessive thoughts, suicidal thoughts. Paranoia, hallucinations, psychomotor excitation, delusions.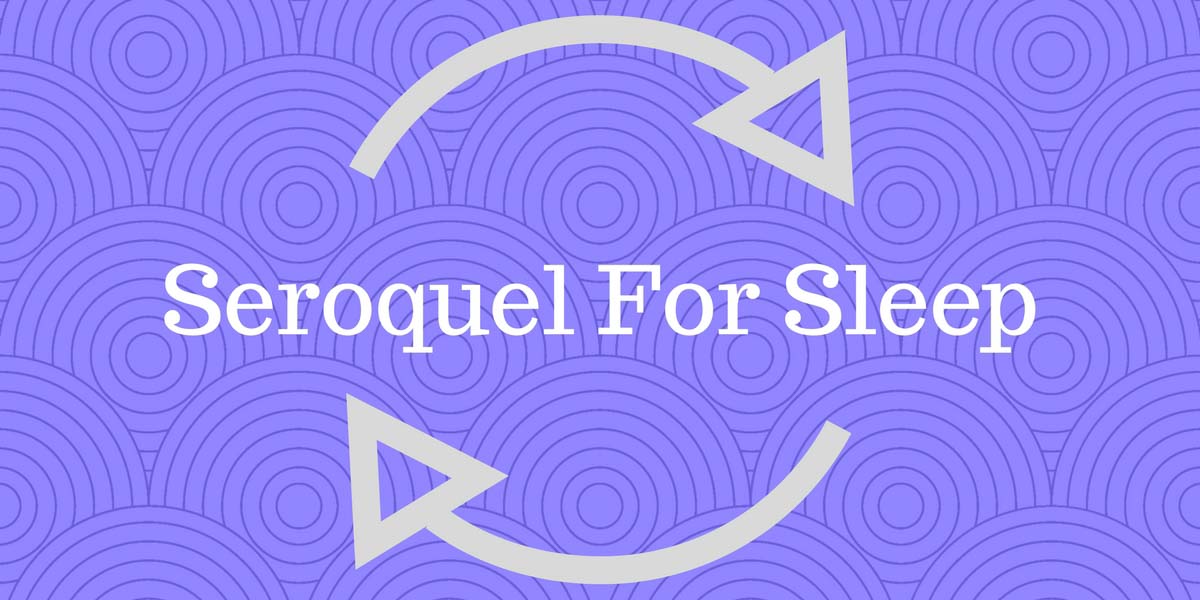 4.) Seroquel for Sleep: is Quetiapine Fumarate an Effective Sleep Aid? / Insomnia
Use for insomnia & anxiety is "off-label" (meaning that it is not strictly approved for use in these cases).
Because of this, there are no official guidelines for dose and correct usage.
However, in practice it's common for 50 – 100mg to be prescribed once at night to help with insomnia.?
This is the typical range, but under some circumstances upwards of 200mg doses are prescribed.
It's important to note that many doctors do not recommend prescribing quetiapine for sleep disturbance.
This is because of its powerful use as an atypical antipsychotic.?Zolpidem,?zopiclone, eszopiclone (Z-drugs/non-benzos) are often better at inducing sleep due to their being hypnotics, and without as much as "brain dampening" side effects compared to Seroquel.
But, others argue that at the low dosages needed to promote sleep (typically <200mg), that Seroquel is not strong enough to provide it's antipsychotic effects and only acts as a powerful anti-histamine/sleep inducer.
But the question remains concerning any of these drugs as good long-term solutions for sleep problems.
Short-term use can be okay, but eventually, tolerance will rise, effectiveness will decrease and dependence will occur.
Drugs can only mask deeper psychological complexes, and one must directly work with the roots of their suffering if they want any lasting change.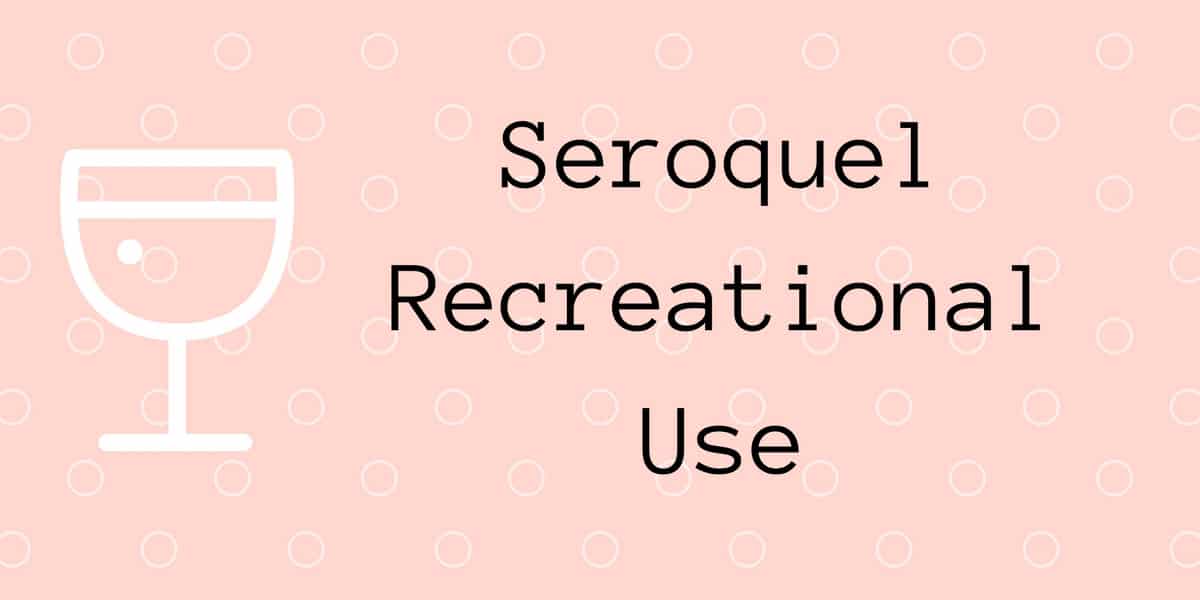 5.) Does Seroquel Have Any Recreational Value?
For some people, yes. Oddly enough abuse of antipsychotic medications is a real thing.
Is there a noticeable Seroquel "high"?
Seroquel has a psychotropic effect, maybe not one you would like or classify recreational but it does.
Its a major sedative/anti-psychotic and will most likely lead to sedation and drowsiness.
It can cause that slight dissociation effect which some people enjoy.
I've read that some individuals supplement any and all of their psychedelic trips with Seroquel and end every stimulant trip with Seroquel.
One user said:
"If you are someone who occasionally has a night of cocaine abuse, taking Seroquel shortly after you stop using is a great way to avoid the often times harsh comedown. It's also a great way to get a good night of rest after serious drinking and possibly sleep through a morning hangover."
Now with that said,
Seroquel can be a dangerous drug. Is it a very bad idea to mix it with other stuff, that could end really bad.
Do not ever take ever Seroquel with DXM.?Also, Seroquel taken with opiates is more dangerous than taking benzos simultaneously with opiates, so avoid that too. You'll also likely end up in the?ER for a few hours after mixing it with coke.
Just heard of someone else on the news going to the ER after taking Seroquel with opiates. It's a great med for withdrawals cause you'll sleep. It's great for its prescribed purposes. But don't take it if your on drugs or even if you're already coming down or you could lose your life.
6.) What is the Typical Recreational Dose of Seroquel?
You can definitely overdose on this drug when used recreationally or in excess. So be careful.
Too much Seroquel can cause seizures though isn't that part of od-ing.
The seizures are due to hypokalemia (a considerable loss of potassium or lowering of potassium in the blood serum.)
600 to 1000mg (depends on body weight) would be the highest dose many recreational users suggest; but not unless you are accustomed to the medication (take it on a usual basis).
But remember, recreation use should never be suggested anyway! And these upper limits might not be what you could handle, everybody is different.
If you use it as a sedative to come down from a stimulant experience or possibly help with a negative psychedelic experience there is no need to exceed (200mg)
Remember, tolerance to Seroquel is built up real fast. As far as recreational use goes, too much of it can cause anxiety flairs up, shadows constantly shift around, and voices start materializing.
How about snorting Seroquel?
Some users choose to insufflate the drug.
Insufflating antipsychotics generally does not yield a higher bioavailability, but it is important to look the oral bioavailability up before trying this.
However, one can do this at home to have symptoms relieved in 2 minutes or so.
That is a big deal considering many antipsychotics take 45 minutes to work orally.
But no, snorting is really not a good idea.
7.) Can you Overdose on Seroquel?
Yes, you can overdose on Seroquel. And it can be fatal.
After a massive overdose of quetiapine, fatal consequences can be delayed up to 50 hours after ingestion, if not beyond.
Therefore, these patients require prolonged observation in a monitored or intensive care setting.
Seroquel overdose symptoms include:
Seizures

Liver toxicity

delirium

Drowsiness?

Rapid heart rate (tachycardia)?

Low blood pressure (hypotension)?

Low blood potassium (hypokalemia)?

Irregular heart rhythm (arrhythmia)?

Coma?

Loss of life.?
For Seroquel overdose treatment, the individual who overdosed, or a family member or anyone who finds an individual in this compromised state should call for medical help immediately and get the individual to a hospital ER as soon as possible.
8.) How Does Seroquel Interact with Alcohol? Is it Safe?
Both Seroquel and alcohol affect the body in a sedative way.
When mixed, the results can be powerful.
Standard scenario of drinking while on atypical antipsychotics is dehydration that increases side effects, heavy sedation from the drug's interactions, a need for a lot of sleep and a hangover that consists of a nice headache and cloudy feeling the next day.
Worse interactions, often following an overdose, can place you in the ICU for days. Seizures are a possibility, as is injuring oneself. Heavy emotions like severe depression and mania can also occur.
The general advice is to drink in moderation if you do choose to drink. (Even better, just give up on drinking.)
Many people find that their alcohol tolerance decreases once on APs (anti-psychotics) and one to three beers will really be all it takes to get them sufficiently drunk.
But beware; many people report blacking out without having the usual warning signs of being too drunk.
You might go from only feeling slightly tipsy to waking up the next morning wondering what the hell happened.
Remember that you are posing an increased risk of long-term brain damage from these drugs by combining them. There is still not much known about their long-term effects (or even short-term, for that matter).
If you love beer, just drink alcohol-free beer. 🙂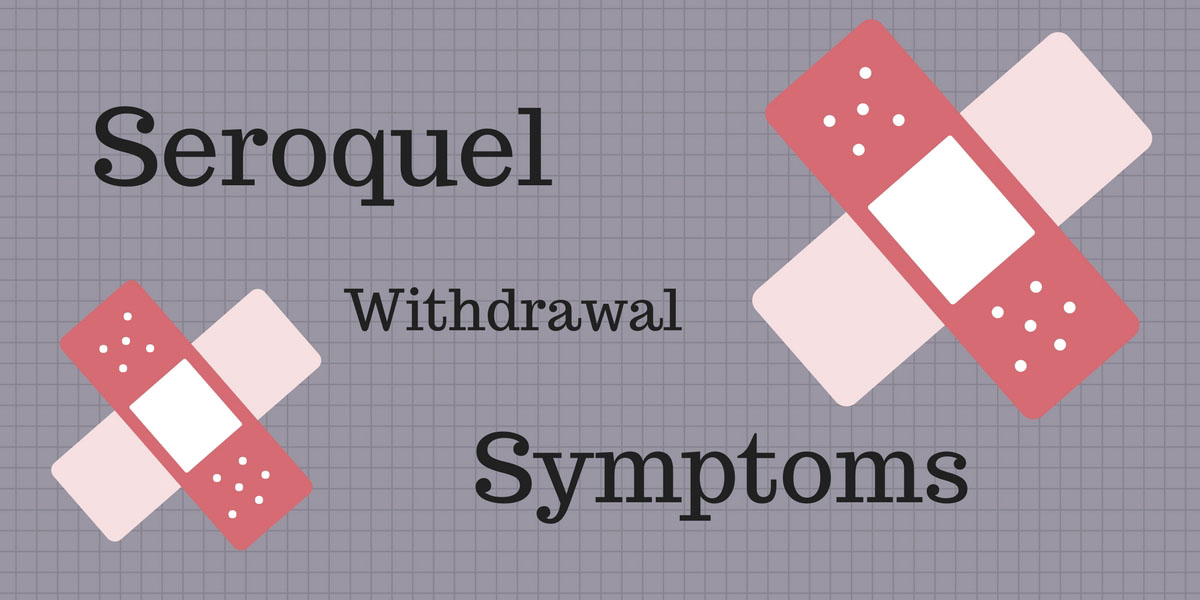 9.) What are Seroquel Withdrawals Like?
The withdrawals from this drug can be very uncomfortable, agitating and draining.
Many people who used Seroquel to sleep might experience even worse insomnia than what they had before starting Seroquel.
This can last for weeks.
Often times people report not feeling like themselves for a long time after stopping or starting to taper off Seroquel.
And this is often accompanied by a general sick feeling, sudden temperature changes, shooting "zapping" sensations in their head and severe emotional distress.
How long do the withdrawal effects last for?
Rare but serious side effects have been reported with this kind of medicine that can persist even after stopping the drug.
A neurological disorder known as NMS or Neuroleptic Malignant Syndrome might occur. NMS is characterized by muscle rigidity and fever.
Another serious side effect that has been reported is Tardive Dyskinesia (uncontrollable movements and twitching, mostly in the face, but can occur elsewhere in the body.
This can entail body twitching that happens every few seconds of every day. And sadly, some cases persist for years after stopping the drug.
The worst part of stopping Seroquel 'cold turkey' is the first 48-72 hours; chills, sweats, anxiety…much like stopping any neuroleptic. Because of this, it is recommended to slowly taper. Ask your doctor about tapering effectively.
10.) What is the Standard Dosage for Seroquel?
Immediate release quetiapine usually is taken two or three times daily. Extended-release quetiapine is taken once daily. The dose usually is increased slowly over several days or weeks to achieve the desired effect. Quetiapine can be taken with or without food, although you will feel the effects quicker and more strongly when on an empty stomach.
The (typical) initial dose for bipolar disorder?is 50 mg twice daily (100 mg/day) of immediate release quetiapine. The dose can be increased by 100 mg/day to a daily dose of 400 mg/day. Most patients respond to 400-800 mg/day. Doses greater than 800 mg/d have not been studied. The starting dose is 300 mg once daily and the target dose is 400-800 mg once daily when using extended-release tablets.
The (typical) initial dose for schizophrenia is 25 mg twice daily (50 mg/day) of immediate-release tablets. The dose can be increased by 25-50 mg two or three times daily. The target dose is 300-400 mg/day in two or three doses. Patients respond to 150-750 mg/day and doses greater than 800 mg/day have not been evaluated. The starting dose is 300 mg once daily and the target dose is 400-800 mg once daily when using extended-release tablets.
The dose range for treating major depression is 150-300 mg/day of extended-release tablets. The starting dose is 50 mg in the evening for 2 days increasing to 150 mg in the evening.
11.) What about Seroquel XR Extended Release?
The XR pills (extended release) come in these dosages:
50 mg extended-release tablets
150 mg extended-release tablets
200 mg extended-release tablets
300 mg extended-release tablets
400 mg extended-release tablets
Extended-release quetiapine (Seroquel XR) is for use only in adults and should not be given to anyone younger than 18 years old, especially children. Children have instead prescribed the instant release formula.
12.) How much does Seroquel cost?
When buying Seroquel without insurance you can expect to pay around $150 to $225 per month for the prescription when you go to your local pharmacy, or buy online from the likes of Walgreens, Walmart, CVS or Costco.
You can find quetiapine in an unofficial online pharmacy store as well, and likely for cheaper. But many of these operations are a bit sketchy. Most of the time you'll get a generic. But they should be of good quality (if it ever arrives 🙂
When buying Seroquel without insurance you'll likely be paying around $4 per pill. Sometimes even up to $13 for smaller quantities!
When buying Seroquel with insurance you should expect to find prices for a month worth of prescription costing you between $15 and $100.
It's a good idea to shop around with different pharmacies. Often times smaller pharmacies have cheaper prices. As far as large pharmacies go, Costco will likely provide the cheapest prices.
When buying generics, it's good to know that the instant release formula comes in generic form but the extended release form doesn't.
13.) What does Seroquel feel like?
So what are the Effects of this drug when you take it? How does it make you feel?
The most common experience with this drug is sleepiness. This is especially so during the first two weeks of starting it.
Many people complain of being too groggy to function correctly and needing 20+ hours of sleep a night for the first couple weeks. But most people's systems will normalize and they will be able to go back to somewhat normal sleeping schedules.
As far as treating psychotic/anxiety symptoms, many people experience a dramatic decrease in episodes. Some people have none. This is because quetiapine drugs do a very good job of stopping the brain signaling that accompanies mental disorders.
But while you may enjoy a lot less emotional episodes, you might also notice the rest of your life feeling "dampened". Many people describe the feelings of Seroquel as extremely disassociating and dreamlike. Like their life is at a distance and they don't "feel like things are real".
14.) What are the Side Effects of Seroquel?
While Seroquel is primarily prescribed to normalize symptoms of mental disorder, some users will find they have increased in their mood or behavior challenges, including anxiety, panic attacks, trouble sleeping. Maybe even feeling impulsive, irritable, agitated, hostile, aggressive, restless, hyperactive (mentally or physically), depressed, or have thoughts about suicide or hurting yourself in a way that wasn't there before.
Stop using quetiapine and call your doctor at once if you have a serious side effect such as:
very stiff (rigid) muscles, high fever, sweating, confusion, fast or uneven heartbeats, tremors;

feeling like you might pass out;

jerky muscle movements you cannot control, trouble swallowing, problems with speech;

tremors, or restless muscle movements in your eyes, tongue, jaw, neck, arms, or legs;

a mask-like appearance of the face, trouble swallowing, problems with speech;

blurred vision, eye pain, or seeing halos around lights;

increased thirst and urination, excessive hunger, fruity breath odor, weakness, nausea, and vomiting; or

fever, chills, body aches, flu symptoms, white patches or sores inside your mouth or on your lips.

orthostatic hypotension

seizures
Common side effects may include:
dizziness, drowsiness, tired feeling;

dry mouth, sore throat;

stomach pain, upset stomach, nausea, vomiting, constipation;

breast swelling or discharge;

missed menstrual periods; or

increased appetite, weight gain.

agitation

dizziness

weight gain

stomach upset
As with other antipsychotics, long-term use of quetiapine may lead to irreversible tardive dyskinesia, a neurologic disease which consists of involuntary movements of the jaw, lips, and tongue.
A potentially fatal complex referred to as neuroleptic malignant syndrome (NMS) has also been reported with antipsychotic drugs.
Patients who develop NMS may have high fevers, muscle rigidity, altered mental status, irregular pulse or blood pressure, rapid heart rate, excessive sweating, and heart arrhythmias.
If cataracts form, treatment should be discontinued. Quetiapine may increase blood concentrations of cholesterol and triglycerides. (by 11% and 17%, respectively.)
Many become at risk for hyperglycemia (high blood glucose) and diabetes while taking atypical antipsychotics like quetiapine.
Patients should be tested during treatment for elevated blood sugars.
Additionally, those with family histories diabetes should have their fasting levels of blood sugar tested before starting treatment and periodically throughout treatment to detect the onset of diabetes.
Any patient developing symptoms that suggest diabetes during treatment should be tested for diabetes.
Elderly patients with dementia-related psychosis treated with antipsychotics are at an increased risk of death when taking Seroquel.
For this reason, quetiapine's are not recommended for the elderly.
15.) What About

Switching

to Seroquel from other Antipsychotics?
There are no systematically collected data to specifically address switching patients from other antipsychotics to Seroquel.
But people do it all the time.
While immediately quitting the previous?antipsychotic?treatment may be acceptable for some patients, more gradual discontinuation may be most appropriate for others.
In all cases, the period of overlapping the meds should be minimized.
16.) Is Weight Gain a Concern When Taking Seroquel?
Many people have experienced troublesome effects with regard to weight management after starting Seroquel.
Exactly how this drug and other atypical antipsychotics like it effect weight is unknown.
The drug does affect in some way your brain's ability to regulate fat storage and process sugars, we're pretty sure.
Through most of these beliefs are based on anecdotal evidence (if you know any studies, let us know in the comments below.)
It can also cause a lot of sugar / unhealthy food cravings, especially at higher doses.
This is because Seroquel likely affects the Hypothalamus gland which is the control center for hunger in the body.
What it does is mainly negate our satiety center meaning no matter how much you eat, you still feel hungry because that mechanism is not working normally as it should
Regardless of how much you eat, whether it's less or more than normal, there is a chance you will gain weight on this drug.
Many people discover their triglyceride levels go through the roof and can develop a decent amount of extra weight.?
Adverse effects on your metabolism are a very real concern.
It's not always just about developing the willpower to eat the right foods and exercise often if a drug is slowing down your metabolism, you won't lose any weight even if you give your best effort. And that sucks.
Now that we've broken through that barrier I want to discuss some alternative existing possibilities.?
Basically, it comes down to having to take another medication to counteract the vicious consequences of Seroquel.
There is a classification of drugs known as "Anti-obesity medications" that can help counteract weight gain effects.
With the two most popular being Orlistat (Xenical) and sibutramine (Meridia).
There are also drugs such as Phentermine, better known as Adipex P, which is a stimulant drug (amphetamine) that will cause appetite suppression and weight loss.
Problem is it can be addicting and most doctors will not put people on these upper style weight meds unless all else fails.
It is usually a last resort type of thing. Diet and exercise, of course, are the best, but with Seroquel for many people, this does not seem to matter.
In some instances, weight gain can happen after stopping Seroquel.
But in most cases, you will slowly begin to lose any weight that you gained. But chances are, it won't come off as easily as it came on.
17.) How about Weight Loss on Seroquel?
This is very uncommon.
Basically, everyone either gains or stays the same weight.
Occasionally people will experience weight loss while they are on Seroquel but it is likely due to interactions with other drugs or other events going on in their life that are affecting their brain chemistry.
18.) The Relationship Between Seroquel and Diabetes.
Many people have noticed a relationship between Seroquel potentially causing or?exacerbating?diabetes.
A large number of individuals who started the meds had a very thin athletic body before going on it, with very good health, low cholesterol, and blood pressure.
After a short while on the medication, pre-diabetes sets in. Later, full of diabetes. This happens far too often. 
The answer is, truly, nobody knows for sure how this is happening. But there are a few theories.
Research is suggesting that Seroquel affects the functioning of the pancreas, which is responsible for insulin regulation.
Insulin disruptions can lead to many things, including food cravings, diabetes, and weight gain.
One thing is for sure, Seroquel often makes people want to eat more, which causes weight gain, and overweight people are more likely to have diabetes.
Especially troubling is that the type of foods one craves on Seroquel tend to be sugary high carb snacks.
Patients who have schizophrenia have higher rates of diabetes regardless of their course of treatment in general, so it may be that the disease, not the drug, is correlated wi e diabetes.
However, Seroquel patients who are not schizophrenic have also been found in some studies to have increased risk.
Moreover, some studies have shown increased risk even when weight or weight gain are controlled for.
And as well, the direct evidence that eating too much or eating too much sugar causes diabetes is suspect.
Seroquel has some effect on blood sugar levels directly.
Patients who take the drug tend to have higher blood sugar levels generally. However, we don't really know why that happens. There are theories about glucose metabolism and about the drug's effect on pancreatic serotonin receptors, but nothing has been conclusively proved.
One Seroquel user expressed this:
These cravings signal that her body's response to the pulse of insulin from Seroquel is causing her pancreas to produce chemicals too often for lower levels of blood sugar to cope with.?
So, these cravings are her body's attempt to get her to actively pump up her blood sugar levels (binging on sugary food) so it can cope with all that Seroquel-induced insulin.
Now, what happens if your body finds itself in a situation where it's producing too much insulin for its blood sugar over and over again??
Simple. It sends in the immune system to kill off some cells, and your pancreas can no longer produce as much insulin as before, making the insulin crises more manageable.
This is called medication-induced diabetes. It is not the same reason other Type II diabetes develops.
This medication, along with various others, causes a change in blood sugar. In order to stay healthy and not get the damage from diabetes one must be treated.
Often when the medication ends, diabetes will also. However, if you have a predisposition for diabetes, it runs in family or you are prone to obesity, then the medication may increase the blood sugar levels.
A study of U.S. military veterans with?schizophrenia?has reported that patients on quetiapine (the active ingredient contained in Seroquel) had 3.34 times as many cases of diabetes when compared to patients taking decades old drugs for psychosis including haloperidol, thioridazine, and others.
Additional studies have confirmed that patients receiving atypical antipsychotics (i.e., clozapine, risperidone, olanzapine, quetiapine, ziprasidone) are at an increased risk of developing hyperglycemia and/or diabetes mellitus.
19.) Are there risks

a

ssociated

with taking Seroquel during Pregnancy?
While there are no adequate studies of quetiapine in pregnant women (only animal studies have been done), quetiapine should be used in pregnancy only if the physician feels that it is necessary and that the potential benefits justify the unknown risks.
In my opinion, you should steer clear of Seroquel if you're pregnant.?
The periods that have the most potential for the drug to cause harm to the fetus are the first and last trimester. But there is inherent risk throughout the whole pregnancy.
For nursing mothers: quetiapine is excreted in the milk of animals during lactation. Although it's not known if it is excreted in human milk, it is recommended that women taking quetiapine not?breastfeed.
Breastfeeding is important though for a babies health, so strongly consider coming off the drug to provide your child with healthy breast milk over potentially destructive formulas.
Lot's of mothers who have taken Seroquel throughout their whole pregnancy and during breastfeeding have exclaimed their children are healthy and happy. This might be so, but we need to consider long-term effects.?
Seroquel effects the neurochemistry of the mother profoundly, and this altering of brain chemicals is no doubt also affecting the brain of the child from conception through infancy.
We have absolutely no idea how profound the impacts could be over a whole lifetime for the child.