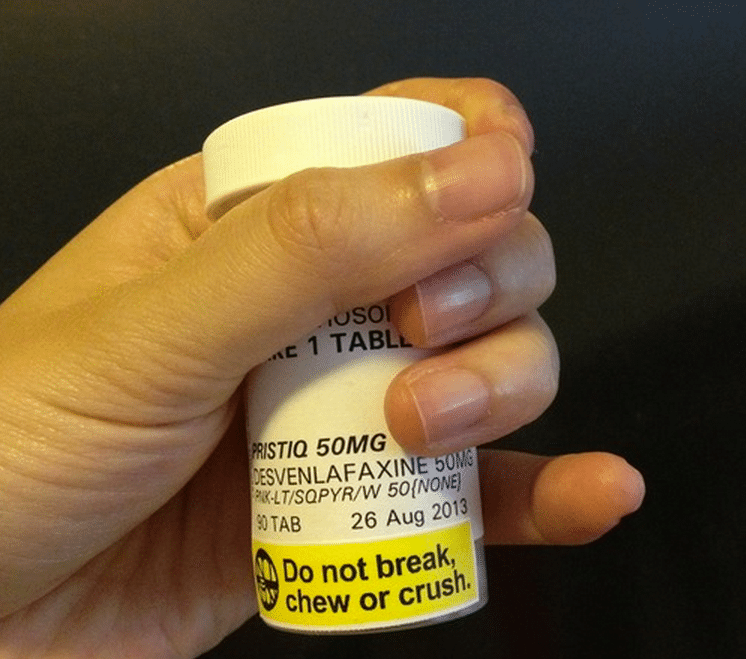 [adsense_inserter id="484″]
1.) What is Pristiq? Why is it used?
Pristiq's strength lies in it's ability mainly to alter mood.
Specifically it is used as a?serotonin?norepinephrine reuptake inhibitors (SNRIs).
It is considered an antidepressant medication is most often used in the treatment of major depression and other mood disorders.
It is also sometimes used to treat anxiety disorders, obsessive-compulsive disorder (OCD), attention deficit hyperactivity disorder (ADHD), chronic neuropathic pain, and fibromyalgia syndrome (FMS), and for the relief of menopausal symptoms.
14.) Your surgeon or anesthesiologist needs to know that you are taking Pristiq.?if you are having any type of surgery, including oral or dental surgery.
15.) Pristiq may cause false changes in laboratory tests, False-positive urine immunoassay screening tests for phencyclidine (PCP) and amphetamine have been reported in patients taking desvenlafaxine. This is due to lack of specificity of the screening tests. False positive test results may be expected for several days following discontinuation of desvenlafaxine therapy.
16.)?People taking Pristiq may have elevated Blood Pressure.?Patients receiving this medication should have regular monitoring of blood pressure since increases in blood pressure were observed in clinical studies.
17.) Avoid drinking grapefruit juice when taking this medication?as it?can lead to deleterious interactions.
18.) This drug will not cure mood disorders, anxiety or depression. But it will help control the behavior that accompanies these conditions.It usually takes several weeks of antidepressant therapy before they will start to feel better. Do not to stop taking the drug if you do not feel the results right away.
19.) If you have or have ever had?heart disease, diabetes, heart failure, irregular heartbeat, stroke, or seizures you should talk to your doctor about these conditions before you take Pristiq. Desvenlafaxine?may interact with other medications or supplements, including antihistamines, antidepressants, anti-fungal, sleeping pills, HIV medications, high blood pressure medications, and more.
20.) What is the?half-life of Pristiq??Approximately 45% of a single oral dose is eliminated unchanged in urine at 72 hours; approximately 19% of the dose is excreted as the glucuronide metabolite and less than 5% is excreted as the oxidative metabolite (N, O-didesmethylvenlafaxine) in urine. Mean elimination half-life is approximately 11 hours.
2.) Pristiq?works by leveling out certain neurotransmitters
The imbalance among neurotransmitters (norepinephrine, serotonin, and dopamine) is the cause of depression.
Pristiq prevents the reuptake of serotonin and epinephrine after they have been released (delaying the breaking down and recycling of these neurotransmitters).
So, reduced uptake causes a prolonged effect of serotonin and norepinephrine in the brain.
It is 10x More Potent than it's predecessors?
Pristiq is approximately ten times more potent at inhibiting serotonin uptake than norepinephrine uptake.
This makes it a markedly more effective alternative with lesser drug interactions than standard antidepressants.
3.) It is Massively Popular to Prescribe and a Big Money Maker for Pharma Companies
Pristiq could generate more than $2 billion of annual sales?analysts predicted.
A federal judge granted class-action status to former Wyeth Inc. shareholders who accused the company of misleading them about risks associated with the antidepressant Pristiq.
Wyeth shares lost more than $7.6 billion of market value after U.S. Food and Drug Administration received information about potential serious heart and liver problems associated with use of the drug. Pfizer bought Wyeth in 2009.
Pfizer reported $577 million in revenue from Pristiq in 2011.
If you?re new to Pristiq you likely have some questions about the drug. So let?s dive into the most important information about this drug.
There are a lot of people that use this drug that deserve to understand it better.
Everyone deserves to understand it better.
Let's help you understand.
4.) General Instruction for Use
Primary use of Pristiq in medicine is in the treatment of major depressive disorder
Normal dose is 50 mg PO once daily
Higher dosages, up to 400 mg/day, have been used but have not been proved to be better. And increased side effects have been reported.
Assess periodically to determine need for continued treatment.
Modifying Dosages
For Renal impaired patients
Mild impairment: Dosage adjustment not necessary
Moderate impairment: Not to exceed 50 mg once daily
Severe impairment: 50 mg every other day
Moderate-to-severe renal impairment and end-stage renal disease (ESRD): Do not increase dosing interval
Do not administer supplemental dose after hemodialysis
For Hepatic impaired patient
Recommended dosage: 50 mg PO once daily; dosages >100 mg/day not recommended.
Best Practices for Administration
Take whole with fluid; do not divide, crush, chew, or dissolve
Take at approximately the same time every day
NOTE: Safety and efficacy not established in Pediatric
5.) Can you Overdose on Pristiq?
The amount of this medication needed to result in an overdose?greatly depends on the individual characteristics of the user.
Body weight, length of use and individual brain chemical balances all factors in.
Among the patients included in the major depressive disorder trials of Pristiq, there were four adults who ingested doses greater than 800 mg of desvenlafaxine (4000 mg [desvenlafaxine alone], 900, 1800 mg and 5200 mg [in combination with other drugs]); all patients recovered.
In addition, a patient?s 11-month-old child accidentally ingested 600 mg of desvenlafaxine, was treated and recovered.
Symptoms that might indicate an overdose has?occurred?include:
Changes in level of consciousness (ranging from somnolence to coma)
Mydriasis
Seizures
Vomiting
Electrocardiogram changes (e.g., prolongation of QT interval, bundle branch block, QRS prolongation)
Sinus and ventricular tachycardia
Bradycardia
Hypotension
Rhabdomyolysis
Vertigo
Liver necrosis
Serotonin syndrome
Can an overdose of Pristiq result in death??
Yes, death has been reported with high dosage Pristiq is known to cause death when consumed in excess.
Overdoing a desvenlafaxine medication often results in?serotonin syndrome for the user.
The effects of this syndrome range from mild irritability and accelerated heart rate all the way to fatality. It depends on how much of an overdose it is.
In the event of an expected overdose, you or your loved ones should take immediate action and seek medical help.
Any?noticeable negative side effect is cause for a medical consultation. These and other symptoms might be signs of an allergy, incompatible venlafaxine drug interactions, or other complications and should be addressed as soon as possible.?
Management of Overdose?will vary.
If the overdose was recent, a healthcare provider may give certain medicines or place a tube into the stomach to ?pump the stomach?.
However, once desvenlafaxine has been absorbed into the body, there is no treatment that can remove it quickly as no specific antidotes are known. In managing overdosage, the possibility of multiple drugs is considered.?In these cases, treatment must revolve around supportive care in addressing the symptoms that occur as a result of the overdose. For example, supportive treatment options may include:
Fluids through an intravenous line (IV)
Seizure medications?or medications for other complications
Other treatments based on complications that occur.
6.) Associated Side effects and Risks
a.) Adverse drug reactions (ADRs) shown occur with 50 mg/day dosage at rate higher than seen with placebo:
Very common Side effects (>10% incidence)?
Nausea (22-41%)
Headache (20-29%)
Dry mouth (11-25%)
Hyperhidrosis (10-21%)
Dizziness (13-16%)
Insomnia (9-15%)
Constipation (9-14%)
Fatigue (7-11%)
Diarrhea (5-11%)
Less Common Side effects (1-10% incidence)?
Decreased appetite (5-10%)
Anxiety (0-10%)
Elevated cholesterol and triglycerides (0-10%)
Insomnia (0-10%)
Tremor (2-9%)
Proteinuria (5-8%)
Mydriasis (2-6%)
Male sexual dysfunction (0-6%)
Anxiety (3-5%)
Vertigo (1-5%)
Blurred vision (3-4%)
Abnormal dreams (2-4%)
Urinary hesitation (2-4%)
Yawning (1-4%)
Feeling jittery (1-3%)
Female sexual dysfunction (0-3%)
Irritability (2%)
Asthenia (1-2%)
Nervousness (1-2%)
Hot flush (1-2%)
Rash (1-2%)
Others including abnormal liver function tests, increased blood prolactin, convulsion, syncope, extrapyramidal disorders, musculoskeletal stiffness, depersonalization, hypomania, bruxism, epistaxis, orthostatic hypotension (<2%)
Frequency of following side effects is not defined
Ischemic cardiac events in patients with multiple underlying cardiac risk factors
Gastrointestinal (GI) bleeding, hallucinations, photosensitivity reactions and severe cutaneous reactions (e.g., Stevens-Johnson syndrome, toxic epidermal necrolysis, erythema multiforme) have occurred with other serotonin-norepinephrine reuptake inhibitors (SNRIs) or selective serotonin reuptake inhibitors (SSRIs)
Suicidal thoughts and behaviors in adolescents and young adults
Hyponatremia
Interstitial lung disease and eosinophilic pneumonia
Serotonin syndrome
Elevated blood pressure
Abnormal bleeding
Narrow-angle glaucoma
Activation of mania or hypomania
Discontinuance syndrome
Seizure
Post-marketing Report also shows a greater incidence of Angioedema
b.) Contraindications
Do not use if you have hypersensitivity to drug.
Coadministration with serotonergic drugs like MAOIs increases risk of serotonin syndrome.
Do not use MAOIs concomitantly within 14 days before initiating desvenlafaxine or within 7 days after discontinuing desvenlafaxine.
Starting desvenlafaxine in patient being treated with linezolid or IV methylene blue is contraindicated because of increased risk of serotonin syndrome.
If linezolid or IV methylene blue must be administered, discontinue desvenlafaxine immediately and monitor for central nervous system (CNS) toxicity; therapy may be resumed 24 hours after last linezolid or methylene blue dose or after 2 weeks of monitoring, whichever comes first.
7.) Can Pristiq Cause People to Feel Sleepy or Drowsy?
Yep, it can. And it often does.
Many people complain about Pristiq making them feel too sleepy to function well.
Pristiq and drowsiness are often known to come together.?
It?s just the nature of this medication to affect parts of the brain which dictate feelings of energy and awareness.?Pristiq can make you extremely drowsy. So know the risks.
Using Pristiq together with alcohol can increase nervous system side effects
These side effects can include dizziness, drowsiness, and difficulty concentrating.
Some people may also experience impairment in thinking and judgment.
You should avoid or limit the use of alcohol while being treated with desvenlafaxine.
Do not use more than the recommended dose of desvenlafaxine, and avoid activities requiring mental alertness such as driving or operating hazardous machinery until you know how the medication affects you.
8.) Pristiq and Anxiety
a.)?For some people it is great at reducing anxiety symptoms associated with depression.?Researchers at Wyeth, a company of the Pfizer Group, found in short-term, double-blind, placebo-controlled trials that desvenlafaxine was associated with significantly greater improvement in anxiety symptoms compared with placebo in patients with MDD.
But?
b.) Many others experience new or increased depression from prescribed doses of?Pristiq. This is not uncommon. While some people respond well to the changes in their life caused by Pristiq, the downsides to the drug just don?t mesh well with others.
Pristiq can be great for depression, but if it?s tiring you out and making you feel weak enough that you need an amphetamine just to feel like anything other than apathy, you might want to shop around.
Some young people have thoughts about suicide when taking medicine for a major depressive disorder and other psychiatric disorders.
Your doctor will need to check your progress at regular visits while you are using Pristiq. Your family or other caregivers should also be alert to changes in your mood or symptoms.
9.) Pristiq Drug Interactions
Drug interactions may change how your medications work or increase your risk for serious side effects. Do not start, stop, or change the dosage of any medicines without your doctor's approval.
Some products that may interact with this drug include:
Drugs that can cause bleeding/bruising (including antiplatelet drugs such as clopidogrel, NSAIDs such as ibuprofen/naproxen, "blood thinners" such as dabigatran, warfarin, etc.)
Taking MAO inhibitors with this medication may cause a serious (possibly fatal) drug interaction. Avoid taking MAO inhibitors (isocarboxazid, linezolid, methylene blue, moclobemide, phenelzine, procarbazine, rasagiline, selegiline, tranylcypromine) during treatment with this medication.
Taking other drugs that increase serotonin may increase the risk of serotonin syndrome/toxicity. Examples include street drugs such as MDMA/"ecstasy," St. John's wort, certain antidepressants (including other SNRIs such as duloxetine, SSRIs such as fluoxetine/paroxetine), tryptophan, among others.
Products that cause drowsiness including alcohol, antihistamines (such as cetirizine, diphenhydramine), drugs for sleep or anxiety (such as alprazolam, diazepam, zolpidem), muscle relaxants, and narcotic pain relievers (such as codeine).
10.) Pristiq Black Box Warnings
Antidepressants increase risk of suicidal thinking and behavior in children, adolescents, and young adults (18-24 years) in short-term studies. Increased risk not observed in patients >24 years; slight decrease observed in patients >65 years.
In children and young adults, initiate only if benefits greatly outweigh risks. Monitor closely for changes in behavior, clinical worsening, and suicidal tendencies during initial 1-2 months of therapy and dosage adjustments
Patient?s family should communicate any abrupt behavioral changes to healthcare provider
Worsening behavior and suicidal tendencies that are not part of presenting symptoms may necessitate discontinuance of therapy
Not approved for use in pediatric patients
11.) What?s more common with Pristiq? weight loss or weight gain??
The answer to this question is that it varies.?Weight gain is an increase in body weight. This can be either an increase in muscle mass, fat deposits, or excess fluids such as water. Everybody is different and every reaction to drugs has its own unique flavor. Some people gain weight, some people lose weight, and for others their weight remains neutral. While it doesn't happen often, people taking Pristiq can gain weight. However, it is actually more likely for a person to lose weight while taking this antidepressant. If weight gain becomes a problem for you during treatment, consult your doctor. He or she can make sure this isn't being caused by another condition and, if necessary, can switch you to another medication.
a.) Pristiq related weight loss
5-10% of people complained about weight loss after they started this medication. Pristiq, in higher doses, decreased appetite in 10% of people. Meanwhile on placebo only about 2% of people reported a decreased appetite. With decreased appetite, weight is likely to go down. This Weight loss is a common adverse reaction in people taking Pristiq. It seems to occur more often in Pristiq-treated people than in people not taking Pristiq. Another study shows the short-term weight loss associated with Pristiq tends to disappear after six months.
Pristiq caused people to lose between 0.9 pounds and 2.4 pounds in three months.At the six month mark, the weight loss seems to have disappeared. It could be that Pristiq causes weight loss during initial treatment and then people gains back the weight.
b.) Pristiq related weight gain
Sometimes people gain weight on Pristiq. Because body weight is complex, this could be due to factors other than the drug. In clinical studies, less than 2 percent of people taking Pristiq experienced weight gain.
If you are taking Pristiq and weight gain becomes a problem, talk to your healthcare provider. He or she will do a physical exam or run laboratory tests to look for other causes of this, such as certain types of medical conditions.
12.) Withdrawals from Pristiq
(NOTE: Do not reduce or stop your regimen without the doctor?s approval and oversight)
Discontinuation symptoms have been systematically and prospectively evaluated in patients treated with Pristiq during clinical studies in Major Depressive Disorder. Abrupt discontinuation or dose reduction has been associated with the appearance of new symptoms that include dysphoric mood, irritability, agitation, dizziness, sensory disturbances (e.g., paresthesia, such as electric shock sensations), anxiety, confusion, headache, lethargy, emotional liability, insomnia, hypomania, tinnitus, and seizures. While these events are generally self-limiting, there have been reports of serious discontinuation symptoms.
A gradual reduction in the dose rather than abrupt cessation is recommended whenever possible. If intolerable symptoms occur following a decrease in the dose or upon discontinuation of treatment, then resuming the previously prescribed dose may be considered.
Some doctors will tell you that there are few or no noticeable withdrawal effects from this drug.?To assume that there is no withdrawal effect from a medication that alters brain chemicals and produces a sedative effect?is unprofessional, and unbelievable. They themselves have never taken it before and are likely making assumptions from what they?ve been told by the drug manufacturer.
As Pristiq is prescribed for major depressive disorder, and withdrawals when stopping the medication can include mood swings more severe than what they would experience before taking the drug.
Because withdrawal from antidepressant medications is?under appreciated, there are few guidelines given to physicians on how to wean patients off such drugs. Sometimes, your doctor may prescribe multiple other medications (i.e., Lexapro or Prozac etc.) to help you wean off. One thing is for sure, tapering is important. It is highly discouraged to stop taking such drugs suddenly.
It?s important to note that some of symptoms accompanying withdrawals may be attributable to depression relapse, such as dysphoria, rumination, insomnia, and irritability, whereas other symptoms are more suggestive of withdrawal (e.g., nausea, lightheadedness, muscle twitching).
Coming off of small doses of this drug can cause withdrawal symptoms similar to larger doses.?Individuals who are on higher mg doses often know the importance of slow tapering. But those who are on smaller amounts sometimes decide to quit cold turkey because of how little they are consuming. But many people complain of having extreme negative symptoms when dropping even small doses like this.
13.) Pristiq and Pregnancy
a.) Pristiq is pregnancy category C drug. If you are pregnant or become pregnant while taking Pristiq, you should talk to your doctor about alternative treatments for your condition. Pristiq can cause problems in newborns if taken during pregnancy or while breastfeeding.
Possible complications, sometimes severe and requiring prolonged hospitalization, respiratory support, enteral nutrition, and other forms of supportive care in neonates exposed to SNRIs or SSRIs late in the third trimester; may arise immediately upon delivery.
Carefully consider the potential risks and benefits of treatment when used during the third trimester of pregnancy. Consider cautiously tapering dosage during the third trimester prior to delivery.
b.) Nursing while on this drug is not recommended.?Small amounts of the drug are known to be distributed in breast milk. The manufacturers of the drug advise abstaining during nursing.
About Pristiq? ER
The active ingredients in regular tablets are usually released within 15 to 30 minutes of when they are ingested.? Often they are prescribed to be taken three or four times a day.? The active ingredients in extended-release tablets are released over a much longer period of time and are usually taken only once or twice a day.
Pricing Information:
Pristiq? ER 100mg 24-hr Tablets:
30-tabs/$152.99 and 90-tabs/$439.99
Pristiq? ER 50mg 24-hr Tablets:
30-tabs /$150.98 or 90-tabs/$429.97
This pricing information was updated 02/2014. Actual costs to patients will vary depending on the use of specific retail or mail-order locations and health insurance copays.
Manufacturer:
Wyeth Pharmaceuticals Inc., a subsidiary of Pfizer Inc.
Inactive ingredients:?
For the 50 mg tablet, hypromellose, microcrystalline cellulose, talc, magnesium stearate and film coating which consists of polyvinyl alcohol, polyethylene glycol, talc, titanium dioxide, and iron oxides.
For the 100 mg tablet, hypromellose, microcrystalline cellulose, talc, magnesium stearate, a film coating which consists of polyvinyl alcohol, polyethylene glycol, talc, titanium dioxide, iron oxide and FD&C yellow #6.
Instructions for consumer
Take this medication with or without food, usually once daily or as directed by your doctor. Dosage is based on your medical condition and response to treatment.
Do not crush, chew, or dissolve this medication in water. Doing so can release the entire drug at once, increasing the risk of side effects. Also, do not split the tablets unless they have a score line and your doctor or pharmacist tells you to do so. Swallow the whole or split tablet without crushing or chewing.
It is Important to note that patients may notice an inert matrix tablet passing in the stool or via colostomy, and that the active medication has already been absorbed by the time the patient sees the inert matrix tablet.
Sources
Wyeth Laboratories Inc. Pristiq?(desvenlafaxine succinate) extended-release tablets prescribing information. Philadelphia, PA; 2009 Feb.
Wyeth Laboratories, Philadelphia, PA: Personal communication.
Deecher, DC; Beyer, CE; Johnston, G; Bray, J; Shah, S; Abou-Gharbia, M; Andree, TH (August 2006). "Desvenlafaxine succinate: A new serotonin and norepinephrine reuptake inhibitor". The Journal of Pharmacology and Experimental Therapeutics 318 (2): 657?665.
Morag I, Batash D, Keidar R et al. Paroxetine use throughout pregnancy: does it pose any risk to the neonate??J Toxicol Clin Toxicol. 2004; 42:97-100.
Haddad PM, Pal BR, Clarke P et al. Neonatal symptoms following maternal paroxetine treatment: serotonin toxicity or paroxetine discontinuation syndrome??J Psychopharmacol. 2005; 19:554-7.
Moses-Kolko EL, Bogen D, Perel J et al. Neonatal signs after late in utero exposure to serotonin reuptake inhibitors: literature review and implications for clinical applications.?JAMA. 2005; 292:2372-85.
Sanz EJ, De-Las-Cuevas C, Kiuru A et al. Selective serotonin reuptake inhibitors in pregnant women and neonatal withdrawal syndrome: a database analysis.?Lancet. 2005; 365:482-7. [IDIS 527994] [PubMed 15705457]
Nordeng H, Lindemann R, Perminov KV et al. Neonatal withdrawal syndrome after in utero exposure to selective serotonin-reuptake inhibitors.?Acta Paediatr. 2001; 90:288-91. [PubMed 11332169]
Dahl ML, Olhager E, Ahlner J. Paroxetine withdrawal syndrome in a neonate.?Br J Psychiatr. 1997; 171:391-2.
Food and Drug Administration. FDA news: FDA proposes new warnings about suicidal thinking, behavior in young adults who take antidepressant medications. Rockville, MD; 2007 May 2. From the FDA web site.
Food and Drug Administration. Antidepressant use in children, adolescents, and adults: class revisions to product labeling. Rockville, MD; 2007 May 2.
Food and Drug Administration. Revisions to medication guide: antidepressant medicines, depression and other serious mental illnesses and suicidal thoughts or actions. Rockville, MD; 2007 May 2. From the FDA web site.
PRODUCT INFORMATION PRISTIQ? desvenlafaxine (as succinate)". TGA eBusiness Services. Pfizer Australia Pty Ltd. 10 December 2012. Retrieved 8 November 2013