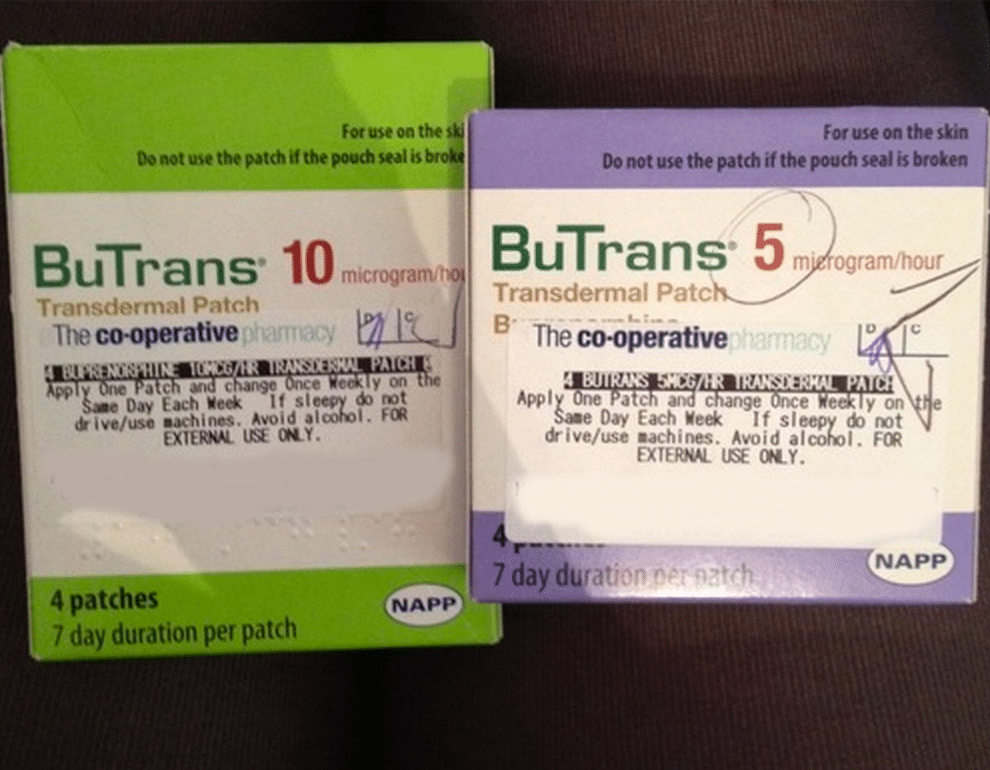 The Butrans patch is a pain relieving drug from the opioid family.
It is offered in a transdermal system (a patch that goes on your skin).
For those dealing with pain management, this medication can help remedy severe pain with the added benefit of not having the typical side effects of heavy-duty narcotics
If you've recently been prescribed a buprenorphine patch for the pain you might have some questions about the drug's effects and how to go about managing your dosage to avoid dependency and abuse.
In this post, we'll look in depth at:
The effectiveness of the patch

Finding the right dosage

The "high" produced from the patch

Taking other drugs with Buprenorphine

Buprenorphine and Suboxone

Butrans Side Effects

Butrans withdrawal effects

The potential for Butrans abuse.
1.) How effective is the patch for reducing pain?
Many with chronic pain who have accumulated years worth of opiate use are often skeptical about the effectiveness of Butrans.
Yet many are surprised once they start using the patch.
For one, the patch is actually quite efficient at reducing chronic pain.
But maybe even more important for those afflicted with chronic pain, is the lack of side effects that they're used to dealing with from other pain meds.
Medications like oxycontin, tramadol, morphine, and Percocet often leave people feeling very clouded and bogged down. Patients complain of slowly losing motivation and taking severe dips in life quality over years of painkiller use.
Buprenorphine boasts these advantages over traditional pain meds:
Effectively administered pain management over time – no need to re-up every 4 hours.

High safety profile – very little worry of overdose.

Unlike other pain meds, it doesn't produce a strong incapacitated feeling.

Does not induce strong tolerance issues. Many users do not complain of a loss of effectiveness even after years of Butran use.
The Butran patch delivers its pain relief in small increments – in micro-grams throughout the day – so it takes a little while to build up in your system. Relief typically begins to take effect in 2 or 3 days after administration. (If you don?t feel relief within the first week, talk to your doctor and ask about upping the dosage).
If your pain is severe, it might not get rid of it entirely. But it might help more than other drugs you've been prescribed over the years. Also note, you probably won't even feel many opiate-like, psychoactive effects.
2.) So what's the right dosage for most people?
This, of course, varies, substantially.
Everyone experiences different degrees of pain and different histories of medication use and drug tolerance. So consulting your doctor will determine your correct dose, for the most part.
Also, just trial and error. There are three dosages in Butrans patches – 5mcg, 10 mcg, and 20 mcg. (At this date, there might be more.)
One thing that many people have noticed with these patches is the necessity to fine tune and get the dose just right. One person noted that they can take 0.8mg sometimes and barely get any relief, but one extra 0.2mg tablet often makes all the difference, giving them significant relief.
One nice thing about this drug is that the risk of overdose is much lower than other narcotic pain meds.
3.) How long will a single patch last for pain? Will it really work for 7 days??
Remember, the drug takes upwards of three days to come into full effect. So if you do not feel strong pain relief within the first few days of administration, just hold out. If by 5 to 7 days in you still have not found relief, you likely need to up your dosage.
That said if you've found the correct dosage you are likely to experience relief up until the 5th or 6th day. It's actually less often that people will get relief from pain for the whole 7 day period that the patch is supposed to work for.
If this happens to you it can quickly prove a challenge. No one should be forced to wait for two days without any pain management before they can administer another dose.
Your best bet is to communicate this with your doctor, try to get him on board with helping you and see if you can work out more coverage with insurance and receive a more frequent dose.
4.) How strong is the "high" produced from the patch?
There are noticeably less euphoric effects from this drug when compared to common opioid medications.
Buprenorphine, as opposed to other opioid analgesics, will cause you less heaviness and grogginess. Many people even feel energized after taking the med.
So while there is not as strong of a pleasurable effect from Butrans when compared to other opiate pain meds, you will likely experience a clearer-headed experience along with adequate pain relief.
Just beware, the first two days are likely to cause you discomfort and nausea, along with lessened effects. Don't be put off by this too early and give up on the patch. Give it time to take effect.
5.) How about taking other drugs in addition to the patch when I have breakthrough pain?
Yes, you can take breakthrough medication while on the buprenorphine patch.
Morphine, Oxycodone, Hydromorphone, and Tramadol all can be administered to add an analgesic effect for the occasional breakthrough pain, as they do not prove an antagonist to Butrans.
If you want a more technical explanation: Buprenorphine is an agonist/antagonist because it has an agonist effect on the mu opioid receptor and some antagonism at the kappa opioid receptor.
Often doctors will prescribe breakthrough meds if there is extra pain that needs to be managed (morphine and tramadol, for example) on top of the buprenorphine.
Some medications are not as safe to use while on the patch. These include many antidepressants, antihistamines, & muscle relaxers.
Talk to your doctor about any mixing of medications.
6.) Is Buprenorphine the same thing as Suboxone? That stuff that's for treating heavy opioid users for withdrawals?
Buprenorphine uses the same opioid that is the active ingredient in Suboxone.
But, Sobozone is a bit different.
It's mixed with naloxone (an antagonist to deter abuse by injecting) and it is typically at much higher doses (from 2mg all the way up to 32mg). Suboxone is considered a "high dose buprenorphine" while Butrans is a low dose version.
In these higher doses, it's supposed to be helpful as a substitute for other opioids in people who have addiction problems. Many clinics administer it for this & for nearly a decade in the US.
Basically, same ingredients, but Butrans is generally used for people who don't require the high dose treatment, yet who need round the clock chronic pain relief.
7.) What are the side effects of Buprenorphine? Should I be Worried?
Side effects will be tame compared to drugs like Percocet & Oxycotin.
There is also a respiratory ceiling effect with buprenorphine, which means it's practically impossible to die from an overdose.
Common side effects include:
pain;

problems sleeping;

nausea;

sweating;

stomach pain; or

constipation.
More serious side effects include:
Allergic reaction (difficulty breathing; closing of the throat, swelling of the lips, tongue, or face; or hives);

slow breathing;

dizziness or confusion; or

liver problems such as yellowing of the skin or eyes, dark-colored urine, light-colored stools (bowel movements), decreased appetite for several days or longer, nausea, or lower stomach pain.
8.) What about withdrawals from Butrans/Buprenorphine?
While not as severe as many other opiates, there are some definite withdrawals.
The onset of withdrawals typically occurs 48 hours after the last dose, peak around the third day and lasted up to ten days.
The withdrawals were similar to morphine type drugs and moderate in intensity, these include:
Insomnia

Nausea

Loss of appetite

Vomiting

Diarrhea

A rapid heart rate.

Strong drug cravings

Sweating

Chills

Muscle pain

Abdominal (stomach) cramps
In closing
Obviously, like all drugs, it works well for some and not so well for others. This patch helps many people with pain – though not always 100%.